Out of our enormous range, have you ever wondered which tools outsell all the others?
Here's a little insight into the top 5 stars of the show and a few thoughts as to why.
In reverse order, the number 5 slot is currently occupied by the humble flux brush.
No.5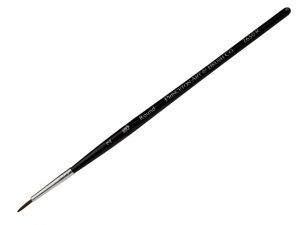 Flux Brush – 946 010
An item which every jeweller and silversmith in the land owns and uses on a daily basis, the flux brush is an essential tool in practically all workshops. Flux is a vital part of soldering and without it, joins are simply not successful. A fine brush gets the flux precisely where you want the solder to run and keeps joints neat and tidy. It is an item which I suspect most of us don't give a second thought to but without it, we would be in quite a pickle.
No.4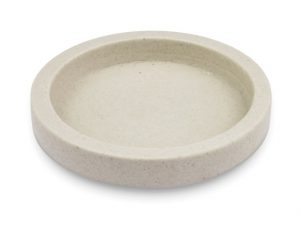 Borax Dish – 999 AAI
Perhaps not surprisingly, our no.4 slot just happens to be the perfect partner to our no.5 product and they are often sold alongside one another. The borax dish is again, one of those items which can be found in most jeweller's workshops. Used in conjunction with a borax cone and a little water, these inexpensive staples will produce enough flux to last you quite literally years, which is why I think it has so many positive reviews (60 to be exact!). I wasn't expecting this to be in the top 5, but can quite understand why.
"Easy to use and works great" – Jodie 2019
No.3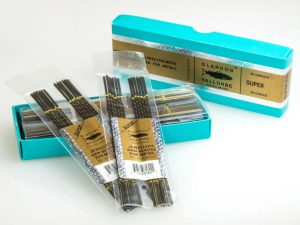 Vallorbe Glardon Saw Blades Grade 3/0, Bundle Of 12 – 972 070
Now this I was expecting, after all where would we be without sawblades!  Vallorbe Glardon are great quality and are a well-respected name in the industry which many turn to time and again. I wouldn't buy anything else and it seems I am not alone, with so many 5-star reviews on our website. These blades are flexible, but strong, so they don't break easily yet still provide a uniform and smooth cutting action. Blades are graded from 4 (coarsest) to 8/0 (finest), so 3/0 pictured above falls somewhere in the middle and is recommended for use with gold and metals ranging from 0.6mm – 0.7mm as a general guide.
No.2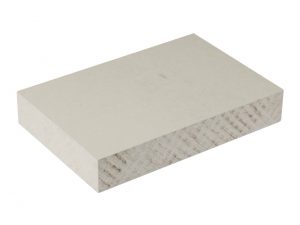 Soldering Block 150 X 100 X 25mm Asbestos Substitute – 999 968
Another surprise, maybe? But a worthy contender nonetheless. Soldering blocks are yet another product that we just can't manage without and this small size is so versatile that you rarely own just one. They can be used as backdrops, supports and props, used singly or in multiples and are highly durable making them very cost effective. Able to withstand temperatures up to 500°C and non-toxic, your working surfaces are well protected when using these asbestos substitutes and you lot adore them.
No.1
Vallorbe Glardon Saw Blades Grade 2/0, Bundle Of 12 – 972 060
And so, it is with a drumroll and a fanfare of trumpets, I can reveal that our most popular and best-selling product is ………………………. Vallorbe Glardon Saw Blades Grade 2/0!! Suitable for metal ranging from 0.6mm – 0.8mm and the ideal choice for silver, you absolutely love these particular blades and have given them no less than 81 positive reviews. If you are one of the few who haven't tried these particular blades, I would urge you to give them a go, if only to see what all the fuss is about! Swiss made from high quality steel; these blades are difficult to beat.
So, there we have it, our top selling items. Not glamourous or expensive but reliable and reassuringly, down to earth. It just goes to show that the most popular items are not always those which have all the bells and whistles.
Written by Joanna Varney
Joanna has worked in and around the jewellery industry for well over 20 years. She has designed and created her own pieces as a designer maker, as well as working in jewellery retail on a much larger scale, producing designs and NPD for some of the UK's largest high street retailers
The post Our Best Selling Top 5 Tools appeared first on The Bench.